How to Write the Perfect Site Manager Job Description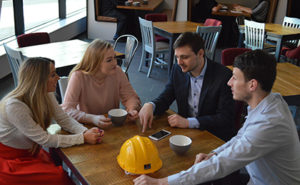 We understand the importance of hiring the right site manager job profile for your construction project, both to oversee the site employees as well as ensure the daily running of the site.
Site managers are responsible for ensuring that a project is completed both on time and within budget, so are vital to the overall success.  The right site manager job description can make the world of difference in who you attract to the role.  Accurate and easy-to-digest job descriptions will allow candidates to identify quickly whether they are right for the position and will save a business time in not sifting through unsuitable applications.   Within this article, we will highlight the key inclusions you should consider in order to build the perfect site manager job description.
Company Name
This is important to include, and some companies fall short of this. If you want to attract a great candidate, then you have to let them know the company they are applying for, as this will sway their decision. With regards to this, make sure that all of your company contact information and touchpoints are easily findable, as a candidate will use them to research the company.  This includes your social media channels such as Linkedin, your website and links such as your Google business listings.
Company Description
Make sure you include a brief description about the company they will be working for. A job role is an important part of people's lives and there is a need to understand what they should expect their company should be like.  Include information about what the ethos of the company is, how much experience you have, and some projects the company is involved in.
Location
A simple one you would think, but the number of site manager jobs that are bypassed because they lack a location is found more frequently than expected. When candidates search for jobs, they will search in their desired area.  Without a location, your job will simply not appear in their results. It's also important to include whether candidates are expected to travel or work at other locations.  Although it may seem attractive to pull more candidates through omitting potentially negative information, in the long run this is a false economy, simply drawing inappropriate applicants.
Salary
It's best to be honest with your salary you're offering, even if this varies depending on experience. It's a lot more reassuring and appealing for a candidate to know what they should expect as remuneration, than a company that simply posts 'competitive salary.'  User research shows that candidates may not progress with an application if a ball-park idea of the salary cannot be gauged from the job advert. It's also important to put here if they could expect to receive any pay rises after any training courses or performance improvements.  This is also an ideal location in which to detail benefits, holidays, vehicles and any bonuses or commission.
Duties
Make sure to go into detail here so that a candidate knows exactly what is expected of them and there are no surprises at interview. In terms of layout, a large paragraph will get skimmed, so break this up with bullets and paragraphs, and don't be afraid to use headings for specific duties.
Skills and experience required
Split these into essential and desirable skills.  Sometimes the perfect site manager job candidate is not the shape you envisioned until you meet them at interview.  But it is important to stay focused on the skills on which you have no leeway for manoeuvre.  After all, you are hiring this person to fulfil a requirement of the company and the site manager is a vital role, without whom none of the other roles will function.  Again, using bullets and headings within this section will allow a candidate to easily identify whether they have the skills and experience required for the role.   You may also wish to include personal qualities that you are looking for, a confident and articulate individual, ready to challenge, are pre-requisites for a site manager.
What makes up the perfect Site Manager?
What makes a perfect site manager will differ from company, as it depends on the needs of the current employees they will have to manage, as well as the project they are managing, however, some skills that are required for a site manager job no matter the project are:
Good communication skills, as they will be liaising with the client, other construction professionals and, sometimes, members of the public. It is essential they can communicate will with a variety of different people, and be able to change their approach when needed. Clear communications and instructions are essential for this role.
Problem solving skills – There will be a number of issues that arise on a day to day basis on a construction site, so a candidate must have the ability to solve problems quickly and be able to think on their feet.
Decision-making ability and good negotiation skills – They will be looked upon by the team and third party members in order to provide strong decisions, and be able to clarify the reasoning behind decisions, should they need to. They will also need to make a number of negotiations with external parties to ensure a job is completed on time and on cost.
Commercial awareness
Ability to motivate others – They will be in charge of a large team, with candidates varying from all ages and all abilities. It is essential they can motivate a range of different people in order to get the job done.
Team working skills – They will need to work strongly with other people, taking on ideas and decisions, when the situations arise.
Good knowledge of building methods and regulations, as well as making safety inspections and ensuring construction and site safety
They will need to have strong supervisory skills, as they will be overseeing the direction of the project and coordinating and supervising construction workers
Prepared to relocate or face a longer commute as and when required.
Job Type
Include here whether the role is full time or part time and whether it is a contractual basis or permanent.
How to apply
Don't forget the simple details here.  How do they apply and what is the deadline? Are there any specific instructions on what they must do?
Test, test and test again all of the steps involved in your application process. It is surprising the number of beautifully-advertised positions that fall down because the link to the application does not work or the process is inaccurately described.    You may wish to supply additional information here such as interview dates so that candidates can plan their time or inform you of any issues they may have in being unable to attend any dates.
Contact Us
Lastly, where possible, we would advise to include the email address and telephone number of a person willing to talk to candidates should they have any questions before they apply.  This gives you a chance in advance to find out what sort of candidates you are attracting for your job role. It's also nice for candidates to have a person they can contact in case they do have questions that the job description hasn't answered.
This is everything we would include in a Site Manager job description, and we've found this approach attracts the best candidate. However, if you're struggling, we have a number of fantastic site managers waiting for the right role, and we pride ourselves on matching the perfect individuals to the right role, so contact us if you'd like our help with recruitment. We'd love to hear from you.